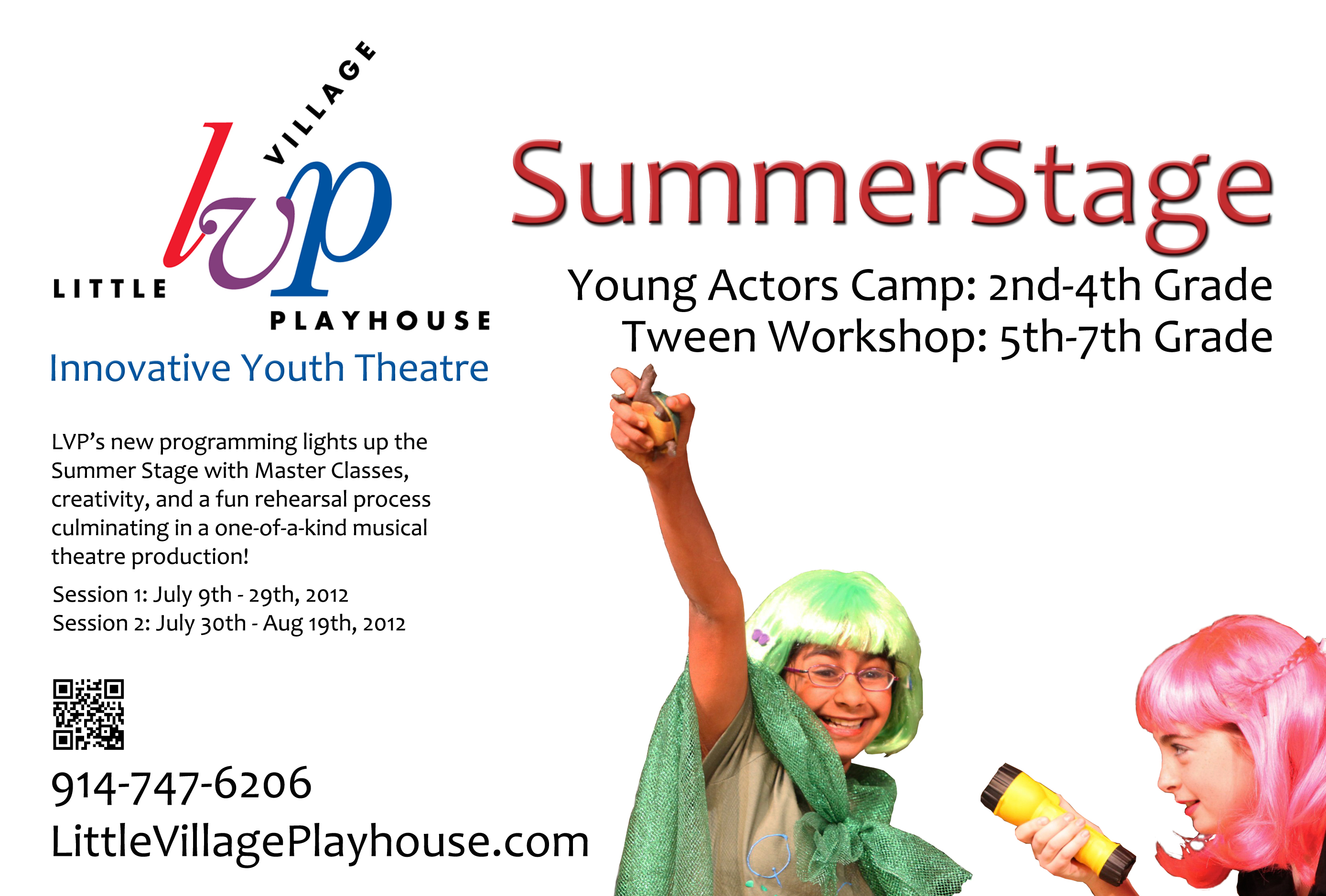 Camp Profile
Age
2 to 4
5 to 8
9 to 13
13 plus

Price Range
$200-$399
$400-$699
$700+

Sessions
Full
Half

Gender
Coed

Specialties
Arts & Crafts
Acting
Drama
Musical Theater
Play/Screenwriting
Stage Tech
Camp Highlights
SummerStage will be comprised of three groups, the Young Actors Camp (2nd-4th graders), Tween Workshop (5th-7th graders), and the Teen Intensive (8th-12th graders). All groups will meet Mondays through Fridays from 9am-3pm at LVP. All will be structured with classes in Acting Technique, Choreography, Improv, Stage Combat, Music and Vocal Technique. The skills learned in these classes will be incorporated into the creation of musical theatre shows that will be performed at the culmination of each respective section. The groups will have rehearsal time for their shows built into their days at Summer Stage, as well as Master Classes (including Shakepseare, On Camera, Mask and more) and exciting Special Event Days!

Young Actors Camp: 2nd-4th Grade Section I: July 9th - July 27th Section II: July 30th - August 17th

Our Young Actors Camp will be fun-filled and action-packed! Campers will learn the fundamentals of what it takes to put together a musical theatre production. Using theatre games and exercises, students learn fundamental acting skills based on the Stanislavsky Technique and build confidence in themselves as actors while they rehearse and perform a final show!

Tween Workshop 5th-7th Grade Section I: July 9th - July 27th Section II: July 30th - August 17th

Tween actors will experience a professional rehearsal process, coupled with theatre games and acting exercises designed to fit their learning levels, the tweens will dive deeper into their work as actors as they endeavor to gain confidence and knowledge about all aspects of theatre and performance.

Teen Intensive 8th-12th Grade July 9th - August 17th

A conservatory program, the Teen Intensive will consist of professional training from actors and directors with extensive experience in the business. Actors will take classes in all of the theatrical disciplines (acting technique, musical theatre, vocal production, singing, dance, movement for actors, Shakespeare, improv and more) Comprised of one six-week section,this Intensive will culminate in a two-act musical theatre production.